That's right ladies and gents, I said it. In my world it is at least. I get actual mail, in my mailbox*, from magical places like France, Indonesia, and Finland. How is this possible? Why, through the magic of the internet, of course!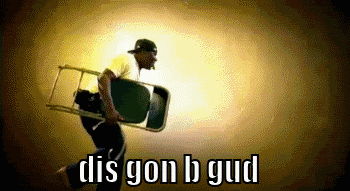 HOW I GOT INVOLVED: I first learned of this project while browsing a home design website of all places. There was one room that was decorated with postcards from all over the world. The description explained how the owner was a member of a project called Postcrossing and I was like, "Waaa?" and the internet was like, "Yeah-huh!" so I was like, "OK!"
WHAT IS THIS SORCERY? In short, Postcrossing is a site that assists you in sending and receiving postcards from random people ALL OVER THE DANG WORLD. Actual humans who handwrite things and occasionally draw you little pictures of caterpillars smoking cigarettes. I thought, "This is the most amazing thing I've ever seen!" and registered immediately. The way it works is this: First you agree to send a postcard and are immediately given a name, address, and the person's profile. Send the postcard, and after it gets marked as being received, your address is the next to appear on someone else's screen. The process is completely random so you never know where you will be sending to or receiving from. I started participating in January of this year and have since sent 50 cards and received 50 cards from 30 different countries. In August I received birthday cards from the Netherlands, Germany, Taiwan, Ukraine, and Russia. Where did your birthday cards come from? Mmm-hmmm… Hallmark is not a country, honey. But if it was, I would be QUEEN!
The program itself is free; all you have to provide is the postcard and the international stamp (a measly $1.15). Lucky for me I live in a major city with adequate access to tourist sites, ergo postcards. I pick some up whenever I see them so I've always got a stash.
For anyone who is obsessed with the world as much as I am, this is a perfect project to be a part of. The senders write fascinating things about their countries, traditions, food, languages and ask questions as well. I love seeing the postcards they send whether they be local sites, artwork from their country, or cats. People love cats. And I particularly love that every postcard I have received from Japan has my homegirl Hello Kitty on it.
In the past 10 months I have learned so much about so many parts of the world and have absolutely loved it. It really does serve as a reminder that we are not all that different and that things all over the world are a lot better than the media portrays. I get cards from Russia and other countries at war and the thing people always write is something along the lines of, "We are not as bad as you think" or "We are not all communists". I get cards with inspirational quotes, drawings, and some that don't even make a bit of sense at all**. I've learned a lot about other cultures but also myself as an American and what that means to the rest of the world.
MY FAVORITE CARDS:
WEIRDEST CARD:
MOST SURPRISING LOCATION RECEIVED:
WHY YOU SHOULD DO THIS:
Because you have probably forgotten how an ink pen works
Get some culture in your life so you can maybe stop saying things like "git-r-done"
Because 513,149 other people are doing it so it must be cool
To justify actually checking the mailbox, because we know there isn't anything else in there worth two-shits
To make friends in other countries because the people you work with are LAME-O
Because this
Because apparently sending mail makes you sexy
*You know, that rusted thing at the end of your driveway that holds flyers from dog hotels and spiderwebs?

**From the postcard from Lithuania: "Have you ever heard about a nice little young round green lunar wooden climbing dux?" Umm, will someone please explain this to me? Seriously I can't figure this one out…